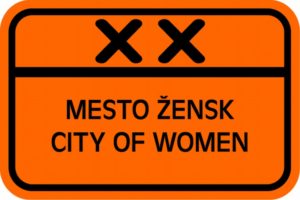 The Association for the Promotion of Women in Culture – City of Women is a non-profit organization for the realization and organization of cultural events and was founded in 1996 in Ljubljana, Slovenia.
The main goal of City of Women is to raise the visibility of high-quality innovative creations of women artists, theoreticians and activists from all over the world, stimulate discussions about various artistic practices and subjects and create an overall artistic programme with the aim to raise awareness of the currently disproportionate participation and representation of women in arts and culture, as well as in society as a whole.
Staff on the project
Artistic Director
Iva Kovač works as a program director of the City of Women since 2021. She has been a visual artist at Fokus Grupa since 2012. She was the curator at PM Gallery in Zagreb from 2010 to 2012 and at SIZ Gallery in Rijeka from 2013 to 2015. From 2017 to 2021 she was the curator at GSG in Rijeka where she initiated and (co)edited the first three issues of GSG magazine for Contemporary Art and Social Question. As Fokus Grupa she received the Künstlerhaus Büchsenhausen Scholarship and developed a seminar at the Innsbruck Institute for Architectural Theory. The Exhistenzoptimum project, realised at the Institute in collaboration with the students explored how architecture shapes communities and reproduces gendered spaces and heteronormative relations. Fokus Grupa has, within a data research project invisiblematter.xyz, explored the global expansion of the contemporary art filed through the lens of e-flux. Within the recent research, which looks at the colonial history of the European periphery, Fokus Grupa published an article titled A Room with a Landscape in ARTMargins journal.
Project Manager
Urška Jež has been collaborating with City of Women since 2006 and is currently president of the Executive board of the Association and the executive producer of the festival. She also worked as a coordinator of Asociacija, Association of Arts and Culture NGOs and Freelancers (2012-2013) and was the executive producer of International Animated Film Festival Animateka (2007 – 2010). She collaborated with several NGO cultural organizations in Slovenia as an organizer, producer, administrator of international projects, and coordinator of volunteers. She finished MBA in Management of non-profit organization with thesis focusing on sponsorships as a marketing strategy.
Audience Developer
Sara Šabec has a BA in pedagogy and andragogy and is currently studying for an MA in philosophy of culture. She works as a freelance performer, pedagogue, and producer active in the fields of street theatre, theatre pedagogy, culture and art education, and the use of theatre elements as innovative learning techniques. At Ana Monro Theatre, she is the head of the School of contemporary performative and street arts, the Kultura po meri project, the international exchange PLACE your ELF inTO public SPACE, and the project Z gledališčem nad učence in dijake (in collaboration with the Slovenian Theatre Institute). She helps organise the festivals Ana Desetnica, Ana Mraz, and Ana Plamenita, as well as the projects Ulice so naše (SEZAM), Mini poletje (Mini Theatre), and the theatre program of Mladinski klub Nade Žagar, Ilirska Bistrica. In film education, she is active in Kinodvor projects Filmska vzgoja za mlade and Prvič v kino. She is also a member of the Anke Piromanke group doing street fire performances.