DansBrabant tales: building a community starting with individuals
12/05/2022
Building a community starting with individuals
Presumptions and set backs
In Tilburg, DansBrabant took the motto of Performing Gender 'Dancing in Your Shoes' quite literally! Rooted choreographer Nikita Maheshwary invited women with her own shoe size 37.5 to walk together in their neighbourhood. From thereon, a small and diverse community of women started to build. The challenge now is to find a potential common ground that can connects them on plural levels.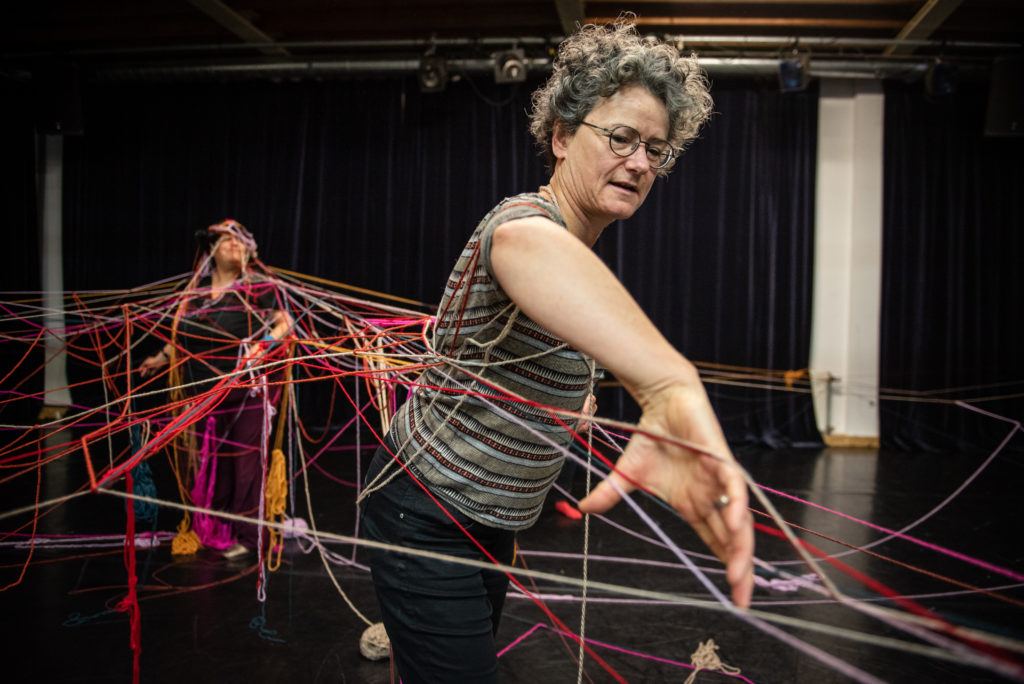 Photo credits: William van der Voort
Set a foothold
Some of the questions addressed by the project had been raised before, by us as well as the choreographer: 'What does it mean to set a foothold somewhere?' 'How do you dive into the dynamics of another environment?' 'What does it mean to have a feeling of home; a sense of belonging?' We both have experience in finding new roots and we found each other in the Performing Gender – Dancing in Your Shoes project.
Last year, we – DansBrabant – moved to a different neighbourhood within the city of Tilburg. One of the first questions was 'how can we learn to know the neighbourhood and involve it, invite it to our (dance)practices'? We were therefore looking for a choreographer who meets these wishes and questions, and found the right match in choreographer Nikita Maheshwary.
Nikita moved from New Delhi to Tilburg in 2017 for the master's in Performing Public Space and has been working on themes of home, identity and female agency for a number of years. She started a two-city research with the project, While We Walk (2017), with a series of 'walking conversations' with women from New Delhi and Tilburg of varied cultures, classes, nationalities and professions.
On the other hand, audience developer Leon Caarls has her feet deep in the Tilburg soil. She grew up here and knows all the neighbourhoods like the back of her hand. From the moment she heard about the project 37.5, she was excited to look at her hometown through a different lens. "When do you have the chance to meet women you normally do not drop across from all those different corners of the same city?"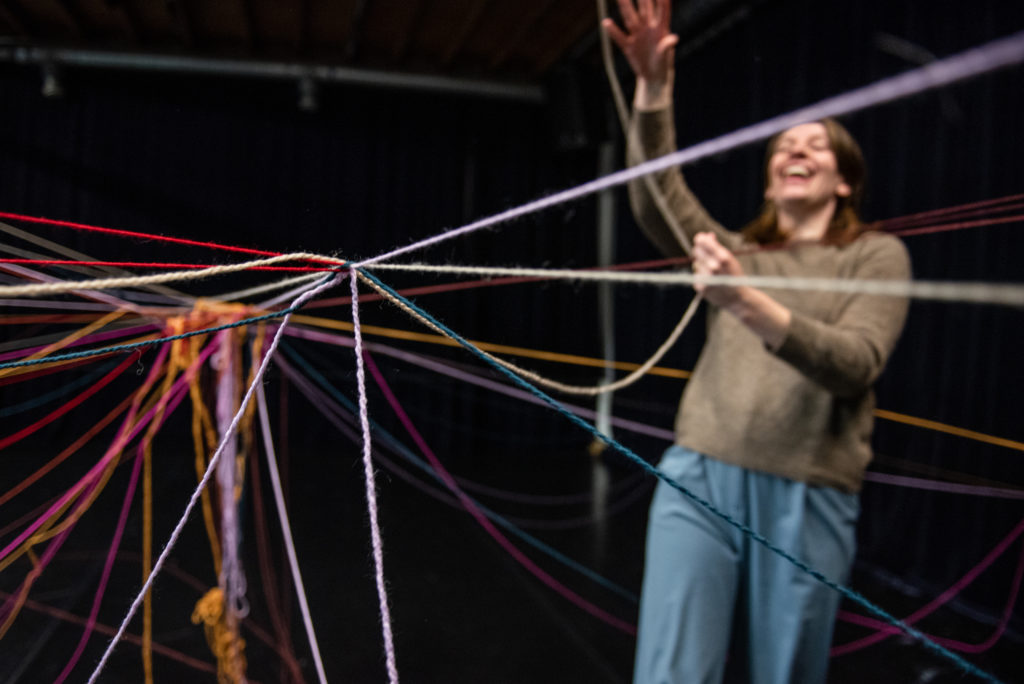 Photo credits: William van der Voort
Walking in Your Shoes 
In building the community, we started from the stories of individual women and not from an already existing or predefined group or community. Women living in different areas in town, women who were born and raised in Tilburg, women who are new to the city. Women who are less visible in the social fabrics of the city. 
The only similarity requested: the women should have shoe size 37.5. They showed Nikita around in their neighbourhood. Their individual stories about their immediate living environment was the starting point of a mutual journey. During these walks Nikita searched for the feeling of home and connection that women have with their surrounding and city. By the way, shoe size 37.5 turned out to be too small. Sometimes you have to step outside your own shoes and try bigger ones, so Nikita did.
The walks were truly a first encounter and tool to persuade the women to join the group meetings. The participants found Nikita very easy going, a good listener and had a great communicator. Most of them could not wait to meet the other women. The women who took the plunge walked with Nikita and are now meeting every Friday morning for movement sessions.
Nikita has had the pleasure of walking with 11 women since the start of the year and each time it has been an intimate and humbling experience for her. "To meet for the first time side-by-side and not face-to-face was a beautiful feeling; close to sharing a dance. The walking conversations as a starting point are important to me as it is meeting someone in their physicality: starting from establishing the rhythmic pace of the walk together to observing and responding to the same environment to sometimes serendipitously have the swishing of the arms against our winter jackets play out as ambience music for our conversations and the silences in between."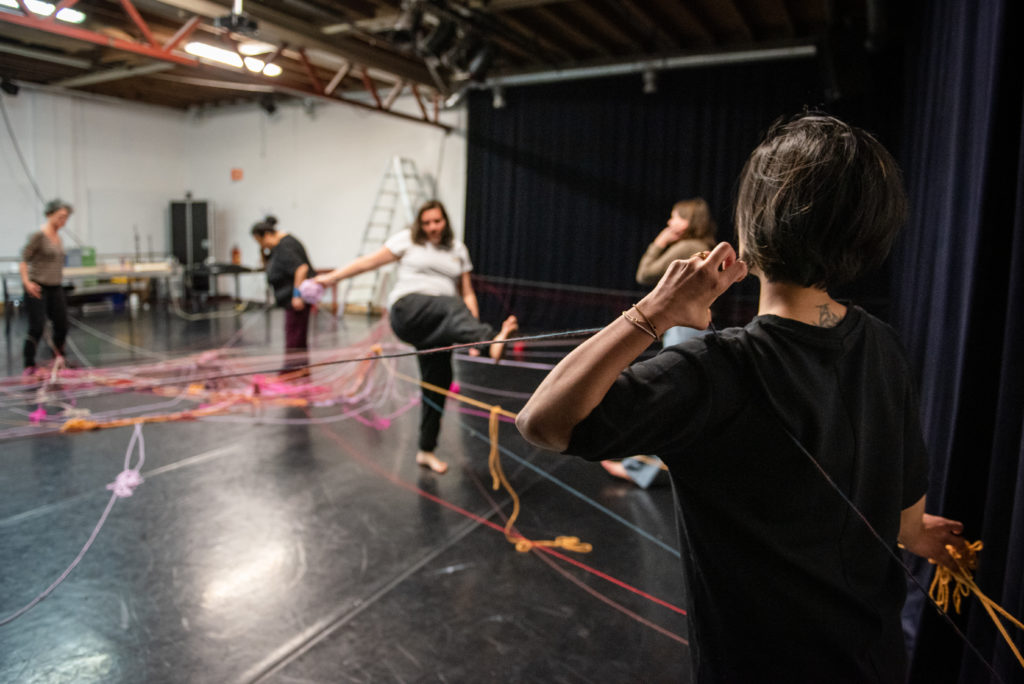 Photo credits: William van der Voort
Social allies
The project started slowly but accurate. From the start of building this community we reached out to a variety of social organisations explaining our project. The whole process of finding participants that are not the usual suspects wasn't always easy:
Loubna and her husband are habitants of Tilburg Noord. An area that is marked as 'impact neighbourhood'. There are problems such as poverty and criminality. Loubna is a local habitant who organises a lot for the neighbourhood.
Because we know her for a while now, she invited us over. Her husband was there as well, listening to the story about the 37.5 project. He became furious. 'Do you really think Nikita will understand the women of this neighbourhood? Do you think women in this area have time to go for a walk? And why would they walk and talk and visit theatre while they have children to feed and don't have enough money to heat their houses? They're busy with surviving and you think they want to walk and talk about their life? They need real help and not another art project.'
He has a point of course. Not only is there a need for real help, there is also a need for physical contact and meeting others outside of your own bubble. But the personal troubles are sometimes bigger than the need for companionship. This is where we find ourselves in an uneasy split, that resonates also in building the community.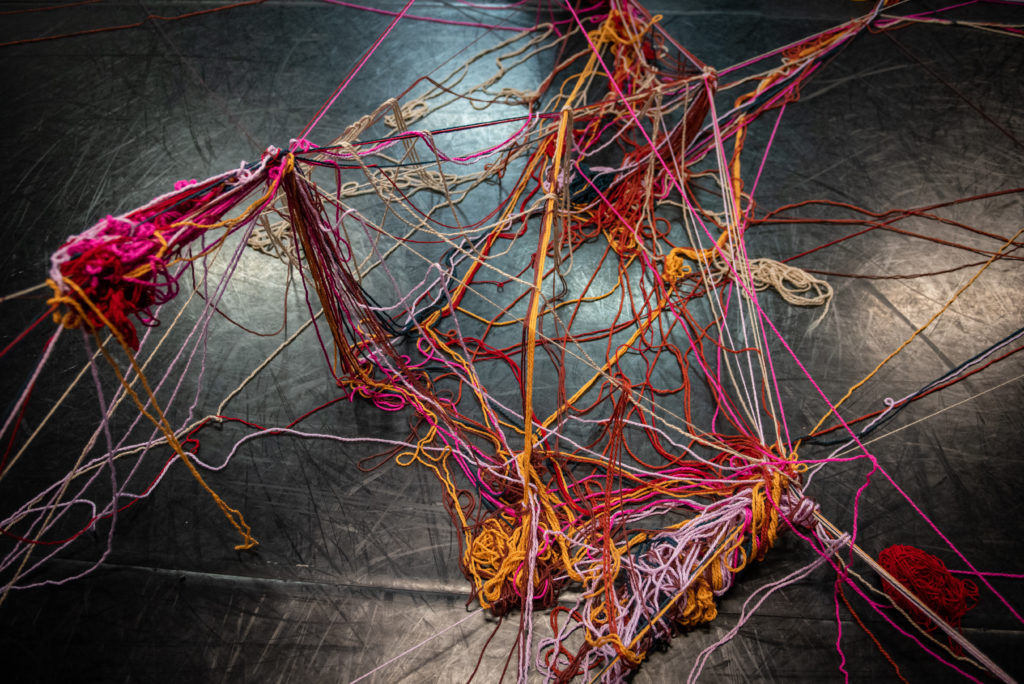 Photo credits: William van der Voort
Common denominators and individual troubles
Initially the main reasons for women to participate seem to be making contact, getting to know new people, taking the mind off things, moving outside their own circle, finding support from the project and from each other. Through the welfare organisations we met many women who were vulnerable having experienced emotional, mental or physical trauma. We see a huge need to participate, but (too) many other concerns to be able to commit to the project for a longer period of time.

Because of some complicated experiences we made the decision to change our recruitment process and focus on a wider composed group of women who can support each other, maybe also with daily issues. We are trying to balance out the ones with the wind in their sails and the ones with head wind…
One step forward, two steps back
Finally, we had our first group meetings in our space Club SoDa! After having shared the one-on-one experiences individually, Nikita wanted (and wants) to bring her impressions of the walks in our collective movement sessions and also hold space for them to perhaps collide and intertwine. This led to movement sessions with yarns of wool based on finding commonalities and interweaving our narratives.
The women who joined immediately connected through movement and physicality. We were surprised about how easily they engaged and opened up to each other. We took this opportunity to invite them to join the journey that we're going to make together, using the horizontal method of co-creation.
Right now, there remain about 7 women who unfortunately aren't able to join every week, but definitely want to stay involved. Now we are looking for the things that connects them, this group of individuals with very different backgrounds and perspectives, each with a different weight in their shoes, but all in need to be seen and to have a sense of belonging.
How do we continue to build the community? How do we look for common ground when the group is still so small? We will have to take it step by step, exploring together, deciding together, building together.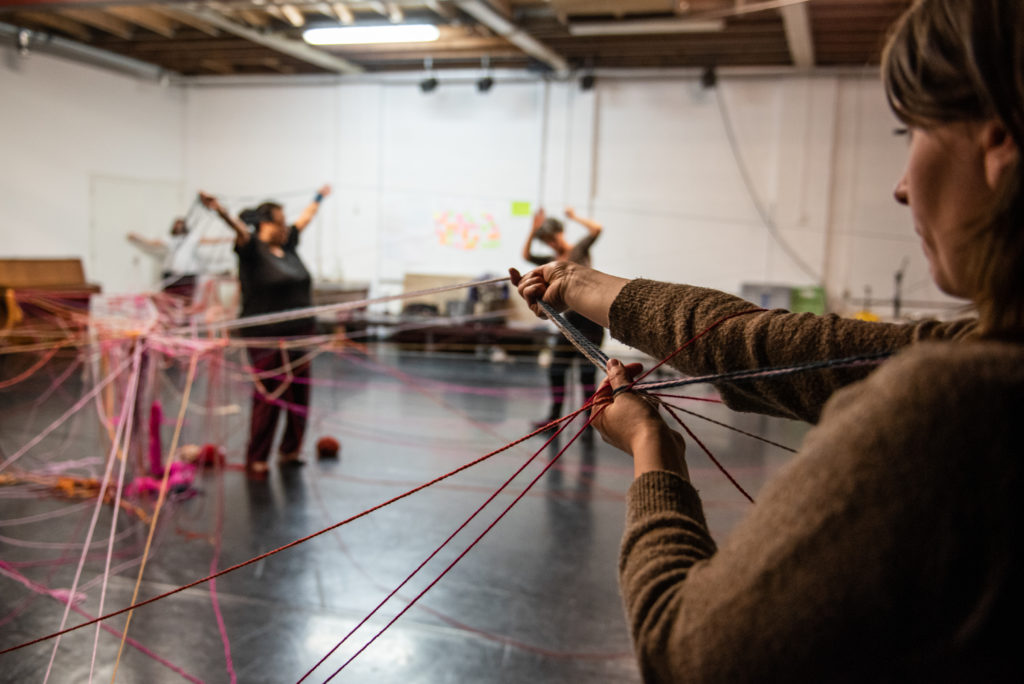 Photo credits: William van der Voort
Bridges and boundaries

With the recent group of women, there is a warm, open and friendly atmosphere. Traveling artist Jija Sohn had a sharp observation from her 2 sessions with the group:

"I felt from all the women that they love to work with their bodies and they really enjoy moving. Because their relationship is still in development, I was sometimes not sure where to anchor and I just decided to be very transparent on how to deal with safe/not safe feelings. It was a study of relationships and communication. 
I felt some people in the group appreciated finding their skills to listen to their bodies. I got some positive feedback that they almost felt an urge to do some embodiment practice. At the same time, I encountered a woman who was challenged by one of touch-based exercises. This is an ongoing search for me on how to deliver my practice without crossing some boundaries."
For some women it is indeed not obvious to touch each other and that is a big step. One woman indicated her boundaries in the group. Due to trauma, she found it very uncomfortable to do a range of motion exercises that involved touching someone's hands. She says: 'I have luggage, but I don't want to let that slow me down. I want to create together and make something. There is safety here.' It's great to see that the atmosphere is so safe that boundaries are set and respected.
It is good to underline how complicated the simplest physical contact is. We have to keep our (cultural) sensitivity towards physicality. On the other hand, the feedback of the participants on the group sessions are hart-warming. They mention they feel loved, relaxed, safe, and are slowly starting to feel, breathe and dance again. 
Leon Caarls: "Moving together is a beautiful and exceptional way to get to know others. We meet by moving. It is special to notice that the choreographers Nikita, Jade and Jija allow us to make such beautiful contact with our body and each other through dance and movement. We breathe, we make sounds, we move and we meet in a cry or exhalation."
A view on the future
Because the group is still small and vulnerable, we have started again with an intensive recruitment campaign. In view of our experiences, we focus not on the starting point of the individual walk, but more on sharing the experiences, workshops and more involvement in the longer term, with the first perspective being a sharing moment during Festival Boulevard in August 2022. 

So, what's next? Stay tuned on our Facebook page!