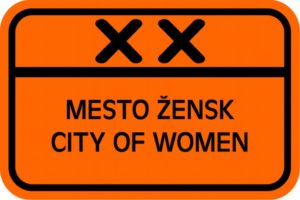 The Association for the Promotion of Women in Culture – City of Women is a non-profit organization for the realization and organization of cultural events and was founded in 1996 in Ljubljana, Slovenia.
The main goal of City of Women is to raise the visibility of high-quality innovative creations of women artists, theoreticians and activists from all over the world, stimulate discussions about various artistic practices and subjects and create an overall artistic programme with the aim to raise awareness of the currently disproportionate participation and representation of women in arts and culture, as well as in society as a whole.
Staff on the project
Artistic Director
Teja Reba is an independent awarded performance maker, curator and producer, based in Ljubljana, Slovenia. Since 2016 she works as program director of City of Women, an organisation focusing on women artists, presenting a variety of bold, critical, radical and innovative artistic voices from various disciplines. She was president of the Contemporary Dance Association and board member for National Art Awards. She has authored a variety of artistic works, co-creating extensively with Leja Jurišić, and collaborated with many artists (Yasmine Hugonnet, Janez Janša, Forced Entertainment, etc.)
Project Manager
Urška Jež has been collaborating with City of Women since 2006 and is currently president of the Executive board of the Association and the executive producer of the festival. She also worked as a coordinator of Asociacija, Association of Arts and Culture NGOs and Freelancers (2012-2013) and was the executive producer of International Animated Film Festival Animateka (2007 – 2010). She collaborated with several NGO cultural organizations in Slovenia as an organizer, producer, administrator of international projects, and coordinator of volunteers. She finished MBA in Management of non-profit organization with thesis focusing on sponsorships as a marketing strategy.