Yorkshire Dance tales: how to create safe spaces for people
18/10/2021
Performing Gender: Dancing in Your Shoes provides Yorkshire Dance with a unique frame in which to sit a long standing ambition to create an intergenerational 'Company of People'.
For many years, we have worked with communities, often divided by particular identities, working separately with young people, disabled people, older people and people from LGBTQ+ communities. Company of People will enable the integration of these groups with a particular emphasis on reaching new communities in the Chapeltown and Harehills area of Leeds.  Whereas previously we have focused on health and social care outcomes, Company of People is first and foremost a place for self-expression, creativity and the making of choreography.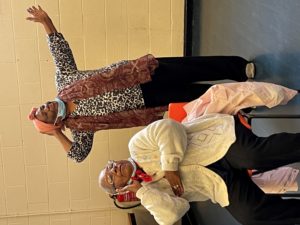 We began by establishing partnerships with 4 specific groups; House of Flava (a QTIPOC group), RJC Dance (young people), Feel Good Factor (Older people), and Space2 (Women and Children). Through a co-produced approach, we selected 8 dance artists and structured a 16 week introduction of weekly dance sessions with each group. 
The Queens of Chapeltown
At Feel Good Factor we started with taster workshops, before establishing a weekly session open to all. There is a rich and vibrant cultural mix in the group and they've quickly assumed the nickname 'The Queens of Chapeltown', as a consequence of the amount of sass and the many incredible characters in the room. A large proportion arrive by bus and walk with sticks, and the majority have never taken part in a participatory arts project before, yet their energy and openness to explore and engage has been incredible.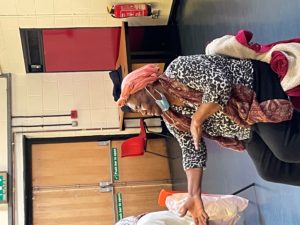 Valuing everyone as an expert in their own lived experience, enables us to dig deeper into stories and journey towards developing a shared world and language through movement. Whatever we create together will come from the wonderfully unique mixture of people in the room.
Next steps
Our next group to begin sessions is House of Flava, engaging Queer, Trans, Intersex, People of Colour. We are beginning with young people at a local dance school run by Yas, who supports people from the LGBTQ+ community to engage with dance. Yas is an inspirational leader, dedicated to creating safe spaces for young people to learn to dance.
We've decided to do some collective work around shared values around gender, how this shows up in the project and how we develop understanding of who people are prior to our groups coming together. We talked about Transphobia issues and gaining trust within the groups. We've decided to create a list of 5 questions for each of the artists, exploring their relationship with gender and where they want to see gender issues in the future. We've also decided to develop a safer spaces policy which we can implement across the programme.
Success hinges on bringing together people from different backgrounds, gender identities and cultures through a shared exploration of dance and choreography.
At this stage, our reality is slow, careful steps with openness to learn and evolve as we go. 
Keep on following Performing Gender and all the steps of the project here.