The Leeds Conversation
01/04/2019
Tanya is the Artistic Development Producer in Yorkshire Dance, and she is our UK dramaturg. She interviews Sophie, they well know each other thanks to the Leeds context. Now they've also shared the Performing Gender journey, but from different perspectives.  
"At the heart of our work at Yorkshire Dance is a commitment to dance that is located in contemporary creative practice. We work with choreographers and dancers who see themselves as activists and who are interested in exploring dance as an agent for social change." That's what Yorkshire Dance tells in its Artistic Statement, that's why they've embarked in this European project. This is also the best starting point to read this conversation in which Tanya Steinhauser questions the dance maker Sophie Unwin about how Trainings have impacted on her practice: exchanges, special moments, new feelings and illuminating discoveries.
9 October 2018, Studio 2 at Yorkshire Dance
Tanya: Could you reflect on the training weeks, how they have impacted on your practice and specially how they might have impacted on our movement research and your physical explorations of gender?
Sophie: It's the first time I've been involved in a European project, and a project which spans a year and more- it's really taken me out of my bubble and has had a big impact on my practice. I've learned a lot about how people communicate, talk about work and feedback. I became aware that perhaps I come from a specific mode of talking about work, the training weeks offered different approaches and viewpoints owing to the various contexts, places and cultures. I was also conscious that I have become a bit fixed in particular ways of working, the training weeks allowed for some significant shifts and considerations about process, which has been both terrifying and brilliant- something that will continue to impact on how I make work.
I've always had somewhat of a resistance to somatic and improvisational practice, for many reasons… but there was a click moment when I felt connected to an internal place, and really relished the feeling of my body opening up to new experiences and connections. That happened a few times: quite emotional responses to moving that I've not experienced before. It's like I've gone from the non-dancing dancer to wanting to really work with the physical me.
There was such a moment in a workshop in Bologna with Felix Ruckert and I was rather anxious about it beforehand. I'd already gone in with 'ok, I know my limits'. There were so many people in a small space. His tasks were in a way very open, proposing things like 'penetrate the space' but the way he led and supported the very relaxed and energised workshop felt like a massive journey in 2 hours. You kind of forget who is in the room, sensual moments with other people, it's difficult to put into words- It was an experience.
Another point that surfaced for me was about 'seeing what emerges' rather than trying to 'force it', pin it down and polish it, as a keen editor and a bit of a perfectionist I haven't really let myself work in this way. That also came out of conversations with the artists who each work in such different ways, and their geographical and cultural perspectives regarding gender, identity and performance.
Gender is such a massive topic, and as the first phase of the training weeks was very much about solo practice, it felt instinctive to zoom into the subject matter from a personal, autobiographical place.
I learnt to be more selfish, and more about what I need, not only what I am doing in that moment but also from the audience, how I approach an audience, what is the exchange? How do I choose to frame research and how it's shared, 'viewed' or interacted with by an audience? Who is it for? The weeks were also very intense, it was also about taking ownership and feeling empowered to take that space.
T: Where there moments of real joy, affirmation or pleasure in connection with the topic that led to new explorations in your practice?
S: It was great to negotiate, discuss and share practices and perspectives. We were in dialogue with each other about our research, how we endeavour to make work and our diverse perspectives about gender and performance. What is brilliant about this project is being with the other artists: the peer group you get to spend a lot of time with. Not only working together, seeing work together, having conversations about life but also how making work functions in each other's environment, which is invaluable experience. That is what my core joy was coming from, I think I took a confidence away from them. I feel as artists they were often very honest about not knowing, and perhaps I've always tried to find the answer even if I really need more time to process.
And accepting that it is a journey and that it is ok to be unsure when you are still working something out. It sounds small but it is huge. In a sort of punk way.
Also, having the opportunity to speak to the different groups of people we met and encountered was very important. People with real life experiences which allowed us to break out of the [dance] bubble. It made me think about who this work is for and how we can we access different people's experiences who are not academics or artists? These few encounters gave us an opportunity to really speak about the nitty gritty of the subject matter which is complicated and about live and death for some people. It wasn't always easy and could have perhaps been set up in a different way at points. However, talking for example to MIT in Bologna, speaking to real people with real experiences, who were pissed of actually that you were doing a project about gender opened up a lot of questions and insights for me.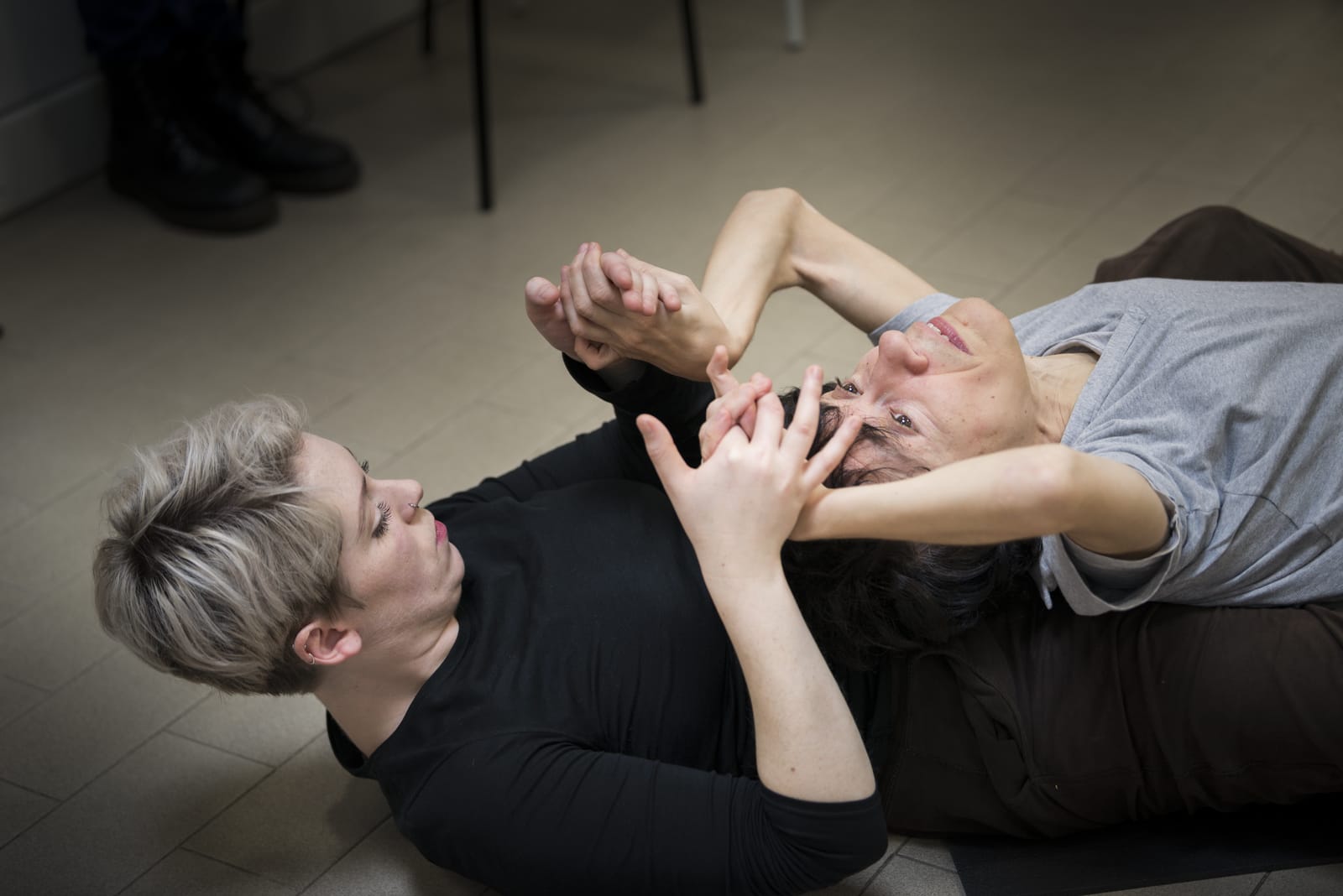 T: Can you reflect of real shift and insight that were pivotal to you and your practice as a dance maker?
S: Regarding the aforementioned new ways of working… it's a shame, I feel that I was getting to a place mentally, physically and artistically with this project and unfortunately that has been broken [Since having to stop the project for medical reasons]. So it does feel to a degree that I am starting anew, getting to know myself again, but now that I am back in the studio I'm purposefully trying to find the joy and rediscover certain states, pick up where I left off.  I am giving myself space and time even if it's to feel good and find joy and power in moving- something I need right now.
A useful point which emerged from the week in Den Bosh was "You already bring everything you need into the room, without thinking too hard and planning, things will naturally come out" (Karen Levi). Recognising that within a process you are not only creating work but are balancing life's issues etc, it may not be a conscious choice but you are bringing with you so much stuff, it's already written somehow in your body and will come out in what you are doing. I am trying to harness this in a way that is useful for my work and for myself.
T: Were there any moments when you felt most challenged and uncomfortable? Did any of them lead to new learning or practice?
There was something challenging about communication between the many organisations and people involved in the project and the difficulties in negotiating and shifting between many opinions, approaches, agendas and needs. But of course a project this size and one which includes many partners, does require a level of negotiation!  I think as the training weeks developed it was clear that being in such a project will inevitably reveal various approaches in giving feedback for example, perhaps some of which I haven't experienced before. But it did lead to a firmer belief in myself, thinking "Ok, I need to own what I am doing, because I am not going to please everybody". A really positive thing came out of that, because it is so important to own your own work.
I think there was something about cameras and documentation too and again negotiating when it felt ok, and when it wasn't appropriate- it's about balancing everyone's needs.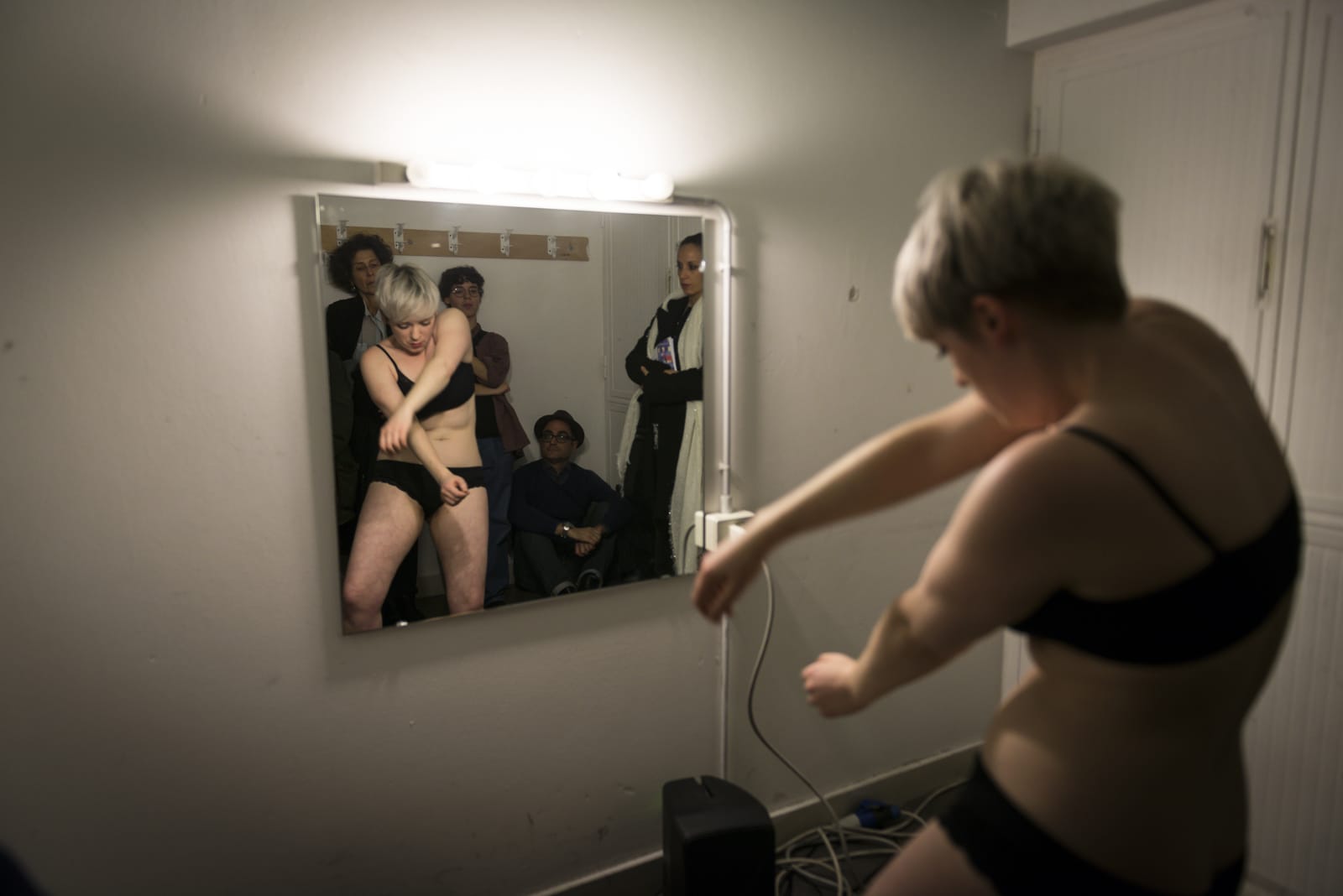 T: What has shifted for you when learning about gender? Can you summarise any themes or threads or research questions you are developing now?
S: 'Gender' is huge. I also think it's easy to start thinking about it as a thing or as something you choose to enact, or the clothes you wear etc… but I think it's intricate and much more complex that.
I believe we can't really talk about gender without talking about race, religion, place, class etc etc and what intersects.
I started to think a lot about the relation between gender and class, and how the body is an archive, a physical site where relationships of class, gender, race, sexuality etc form together and are personified and practiced.  I am thinking about bodies- respectable bodies, unruly bodies, vulgar bodies, controlled bodies, out-of-control bodies, medicalised bodies …and how does class manifest itself in the body? 
T: This project is focussing on artistic practice as activism, can you reflect about how you developed practice in relation to that word 'activism'?
S: Interesting. I don't feel the word 'Activism' was used throughout the project or unpacked.  
Definitely I've tried to provoke and poke throughout the training weeks. In Bologna: It felt like it was a strong choice to use a very intimate and confronting space and to take ownership over it. Owning the space. Take the audience away from the typical theatre setting, shift the view, get up close and personal, I invited people in to my space, I told them when they could leave, told them where to look, drawing their attention to fat and body parts. There were a lot of provoking choices going on. I also knew the context culturally in Italy and what bodies are deemed attractive, which bodies get a platform.
There were some men blown away by, in their words, seeing such an 'imperfect' body exposed! That was important. It was brazen, and new for some of the people in the audience.