Two Dutch conversations
04/04/2019
A kitchen table conversation crossing cultures, boundaries and streets with the dance maker Jija Sohn, and a second round in Tilburg with an interview to Nina Aalders about the dance dramaturg role.
"Gender is much related to the forces in society, but freedom from the heart cannot be controlled by society." Jija Sohn
"They rotated circles on their buttocks, in different variations, for hours on end. I could not read whether it was difficult, or whether it did hurt. I wondered what I could contribute. Then I discovered that there was a need for conversation, that it is quite difficult for dancers during rehearsals to step out of the physical practice and to reflect on what the movement causes to the viewer." Nina Aalders
's Hertogenbosch & Tilburg, December 2018
Part 1 - Heleen Volman and Nina Aalders interview Jija Sohn
At a kitchen table in Amsterdam, drinking tea (not green), the Japanese-Korean choreographer Jija Sohn looks back on her enriching experiences within the Performing Gender project. She speaks with Heleen Volman (artistic director of DansBrabant) and Nina Aalders (Dutch dramaturg) about differences between Asian and European women, about meeting and sharing with choreographers, transgenders and disabled people and about her plans for the near future to go out dancing on the streets and get the audience out of their seats.
Editor: Dirk Verhoeven
Yes but no but yes - On backgrounds
Heleen: "We have been working together in the Performing Gender project. When we called you to invite you as a choreographer in this project and we explained the frame - dance, activism, gender - did you understand why we thought of you?"
Jija: "I was always asking questions about how something that is personal and more inside can become also accessible to other people. At the time that you called I wasn't aware that I was addressing a lot of feminist ideas. Then I started to realize that through my various performances other people could feel that."
Heleen: "How for instance did you work in Geisha's Miracle (2016)? You worked with three Asian women in this piece, where were you looking for?"
"The frame was our common Japanese culture. We went to the same school (School for New Dance Development - SNDO in Amsterdam), were a kind of sisterhood and wanted to work together. That piece was about inbetweenness, about respect for ambiguous moments. We are aware of borders, but the piece is about transition, from A to B, in transitions this ambiguity comes to the surface."
Heleen: "After Geisha's Miracle you started to work on Kyabajo (2018), are those two performances related to each other?"
Jija: "Looking back, they are super-connected. They are both about transformations, from A to B, about crossing boundaries and deconstructing meaning. There lies an origin in my Japanese culture. We always have secret meanings. While on the surface we say 'yes', a 'yes' can be 'no'. Or 'yes'. You have to understand which one we mean in the transition, in the moment of silence."
Heleen: "Can you tell us some more about the differences in backgrounds between Asian and European women?"
Jija: "Here, as a woman, you are an individual and have to be independent. You can say 'no', you can have a good job, partner and child. In Japan, there are a lot of expectations within families and society. There's a lot of hope: 'I want to start a family and quit working.' Most of my friends work in an office and want to quit, marriage is a way to escape."
Heleen: "Do these different cultural expectations play a role in your work?"
Jija: "Something that's very cultural doesn't communicate to an European audience or is only seen as very exotic. I was working on how to express all the layers that are in a piece to this audience and not only talk to them about - for instance in Kyabajo - power and relationships."
Heleen: "Getting back to my first question. Because of these two performances Geisha's Miracle and Kyabajo I proposed you as a choreographer in the Performing Gender project, because for me you were dealing with being a woman and female friendships."
Jija: "I was more busy with trying to cross boundaries between cultures and find a common background through dance. Through my pieces I started seeing the connection with gender. In Bologna, Italy I did a workshop with disabled people and really found a connection with the PG project and realized that in my work I am talking about gender and being out of sync. This workshop was about intimacy, about who the others were for me. There are very strict lines between genders, I want them to become more fluid and formless, using dance. Having the freedom to belong anywhere. Gender is much related to the forces in society, but freedom from the heart cannot be controlled by society."
Creating and contemplating - About the workshops, meetings and sharings
Heleen: "Creating a solo was an important part within the project. What did you bring to Ljubljana, Slovenia?"
Jija: "I was in the middle of making Kyabajo, so there was a lot of overlap between this work and PG. I brought in material from Kyabajo and got good feedback from another artist. To have a solo presentation within the project gave the week in Ljubljana a too deviant orientation. You can't show and control your artistic development after one week. It is so scary to materialize your experiences in a presentation. The experiences in itself are more important than the presentation. This sharing should be able to have other formats than a performance, like a workshop or radio show. It made it difficult to focus. For instance, in 's-Hertogenbosch we were meeting a lot of new people during Theaterfestival Boulevard. This gives your mind a different orientation than that of creating."
Heleen: "Artistic development within this project for me is about the layers that lie below the creation of an actual performance. How did all the workshops and meetings feed you?"
Jija: "For example, in Madrid we had to give a workshop. I was confronted with my own uncomfortability in combination with using language. Reflecting on it, it is also in moments that are uncomfortable or not-exiting that I learn about who I am and how I deal with presentations on a personal level. On an intellectual level I was inspired by a lecture from a professor in Leeds, United Kingdom who gave us tips how to bridge intellectual activism. It made me want to know more about how gender is addressed in the economic and academic fields."
Heleen: "And what were moments other than the presentation in Ljubljana that you did feel uncomfortable as an artist?"
Jija: "We had a meeting with transgenders in Bologna, Italy. They are the one who struggle, they are on the spot. I was there as a straight woman coming from a privileged country, so what was I talking about? It was also a discussion about visibility, that as a transgender you are visible and in danger of getting beaten up on a daily basis. I felt uncomfortable where to place myself in the project to make something."
Different and colorful - About the other dance makers
Nina: "You (figuratively) fell in love with one of the other choreographers in the project, the Italian Roberta Racis. How did you enjoy the exchange with the other artists?
Jija: "Through PG I changed my mind about always wanting to perform in my own productions. Roberta and I are the same kind of obsessive workaholics. I observed her movements but also her perspective on dance and felt a match in character. I wanted to test my material of Kyabajo with other types of bodies. Roberta's ballet body is so much different. Roberta had time and wanted to participate, she is very fluid en artistically easygoing. With choreographer Nataša Živković from Slovenia it was more experimental since we did a sharing and did not start from my developed material. I talked a lot with her on how to bring the gender research questions into the movement material. She is spontaneous, flexible and performative. She is very colorful, we understood each other fast in collaborating."
Nina: "How did the format of being in a group with several dance makers and dramaturges influence you?"
Jija: "I experienced two groups in my career until now: one consists of my classmates from SNDO, the other is the PG group. With SNDO we have an artistically common language. With PG our backgrounds and artistic struggles are so different from each other. How do we help each other? How do we give each other feedback? It was nice to be confronted with these differences and study on them. We didn't learn that at school, we skipped that because of the common language. Nataša always struggles with how to make her conceptual ideas alive on stage, how to make performative material out of it. For me the struggle goes the other way around, the conceptual understanding is much more difficult. We shared stories and inspired each other."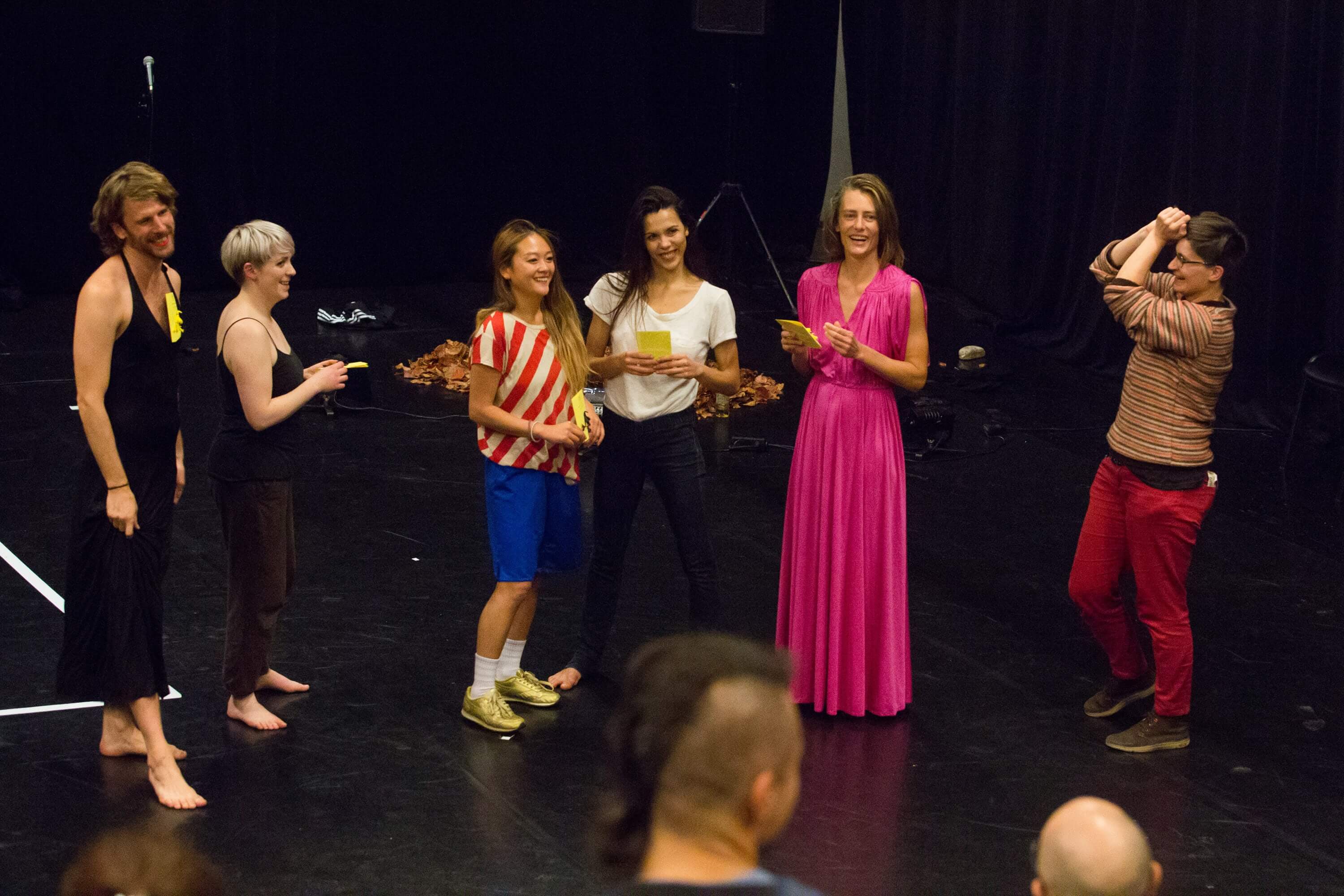 Nina: "Did you find a common activism or could you find a similar energy on the topic?"
Jija: "Within the group I was late in connecting my work with activism. For instance, with the choreographer from Spain, Koldo Arostegui González, it starts with activism and a piece follows from that. It's not something I can copy, but just to hear and watch how he works, made me reflect on my own life and know better on which moments an activistic point-of-view can be put into my work."

Out of the street and out of the seat - About the workshop week and the audience
Jija: "In the upcoming workshop week in Bologna I want to work with ten dancers and really focus on the space and on sharing other than on making a performance. I will make a frame to work from which focuses on questions regarding boundaries, intimacy, solidarity and creative freedom. How do you deal with boundaries, how do we do this together, how do you feel comfortable within a group of ten performers? I want to go out a lot, outside of the studio. I want to spy on people, one dancer will follow a stranger, the other dancer is witnessing him. It is about how far you can go, how close can you go, how much space can you take and what does this do with your feeling of guilt? I want to simply share and aim to create a space for learning, not only for the dancers but also for the audience. I want to question the form and space of sharing.
Nina: "How will you involve the dramaturg Greta Pieropan?"
Jija: "I'd like to see it as a friendship, that she also can feel excited and can bring in her own connections. I'd also want to make a TedTalk and ask her as to participate as a collector and writer. I also need her as a daily reporter, questioning me, for my mental organisation."
Heleen: "What did you get from your audiences during the whole project?"
Jija: "I had a nice experience in Leeds. That audience was very diverse and stayed for the party. Within these informal vibes of parties and smoking outside I feel close to an audience, and in these settings I am getting the honest feedback. I challenge myself to make the same non-distance in Bologna to come to a collective experience. I have to deal with expectations, make clear what the space the audience enters is about and not have a set beginning of a performance. I want to make a crossover to the audience. Just as I want to cross boundaries and look for fluidity in gender issues, the space can also be seen in more than one way. They can't sit comfortably in their seat. Neither do they have to participate, but I want them to feel their own position."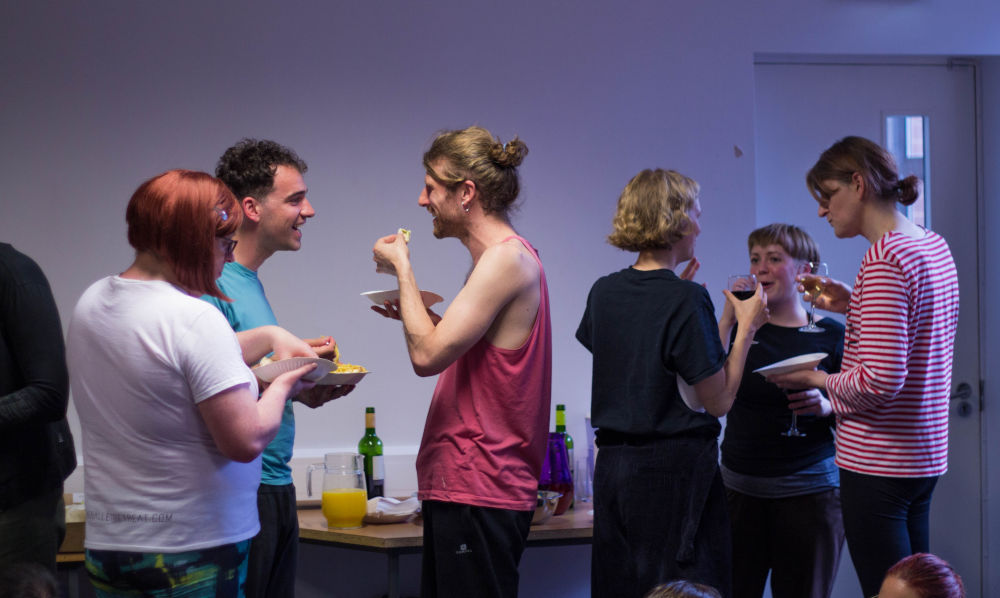 Part 2 - Heleen Volman interviews Nina Aalders
Nina Aalders works as a freelance dramaturg, programmer and artistic coach for Theatre festival Boulevard in 's-Hertogenbosch (NL). She is educated as a theatre- and performance scientist and has taught in theater history and dramaturgy. As a dramaturge she is interested in the physical/sensory element in the experience of the viewer, as in all subjects that relate to physical (re)presentation in (European) theatre history. In the Performing Gender project Nina worked in the workshop week in Tilburg together with dancer and choreographer Roberta Racis and ten dancers on the project Love Rituals.
Intermediate role
As a dramaturge I see myself primarily as a discussion partner. Not only for the choreographer, but also for the dancers and designers of the work. I feel responsible for the conversations during the process, how they take place, but also that they take place, even if the director or choreographer does not think about it. I fulfil a kind of intermediate role. I organize and mediate the conversation and if necessary I initiate it. I also take that role in communication towards and with the audience. I continuously ask: what does a performance need in order to communicate? That's why I also interfere with marketing, I supply building blocks for flyer texts and I look at which interview or programme around a work contributes to receiving it. I feel a big responsibility for the audience.
I do not like the idea of the dramaturge as the first spectator. After all, we all watch, and everyone sees what he sees. I prefer to see myself as a co-creating dramaturge.
I dive in completely; I want to be in the middle of it. This way I also become 'dirty' and become infected. I do not believe in the so-called pure look. I do not float above the creation or anything. After the first conversation you have with the choreographer, you do not watch as the 'regular audience' any more, you have information that you combine with what you see and will see.
That omniscient, truly pure viewer, if it existed, it is of course also not neutral. I sometimes try to examine my values. What do I actually carry with me now? What determines how I look and what I see? You cannot erase the history of what you saw. Everything you have seen contributes to that. And I have my predilections. The chemistry you have with an idea. That also means that you cannot just do dramaturgy for everyone.
There are a lot of myths circling around the profession of dramaturgy. 'The dramaturge knows it all already'. But of course I only know as much as others know during the process. I'm also not the guardian of the initial idea, though I can imagine that during the process I will say: 'I think we thought it would be about this, now it's about this. Is that the intention?' My role is that of the questioner, but also that of the co-builder. As a dramaturge you do have responsibility for what can ultimately be seen.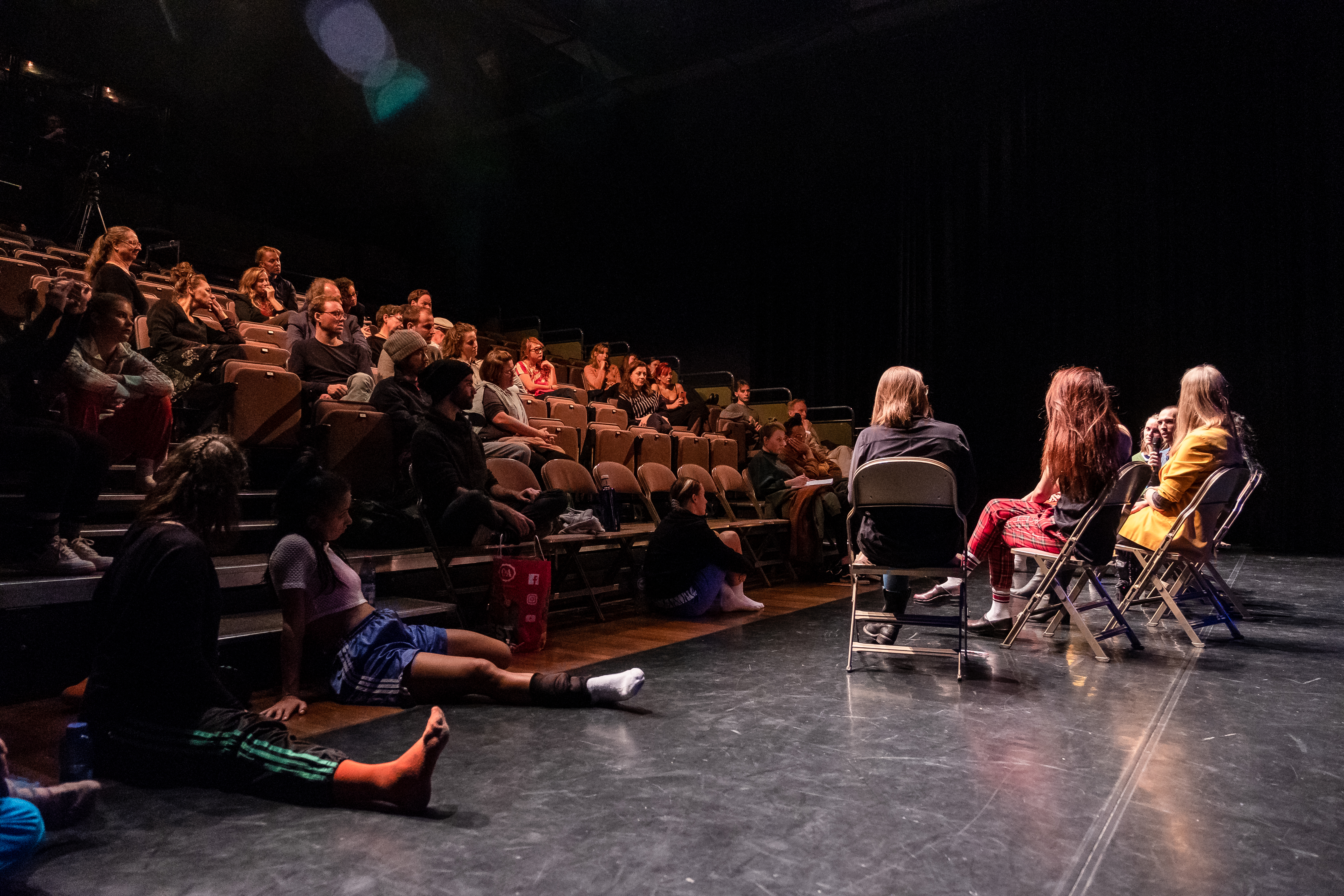 To be at home
Of course, in my development as a dramaturge, I benefitted from a few things in my Theatre Studies program, but partly it is also about personality and what you learn in practice. You have to be able and willing to talk about what you see and you have to be at home in the vocabulary of a choreographer or a director. In that sense it would be logical that a first collaboration is more difficult than a second one. It is also about trust, knowing that you can rely on each other. And knowing about 'codes' and being able to refer to history, knowing from which sources someone draws. So you also know if someone makes a joke or winks at earlier work. I am still learning and you are collecting knowledge that is useful. You can do research and add that to your own archive.
For the project with Roberta, for example, I did a small study of Prélude à l'après midi d'un faun. Because Roberta regarded this music by Debussy as one of the building blocks of her solo, I wanted to figure out the ins and outs and know how to place this work. From her background, Roberta was able to bring out more layers than me. She approached the music as part of the entire dance history, with all the physical knowledge that goes with it.
To take feelings seriously
As a dramaturge I use all my senses, I make my whole body available and I try to look as generous as possible. When you look, you feel many things. You have to take all of that seriously, also the more vague feelings. For example if something is very spectacular but you still find it boring, or if you go into a performance very tired and that 'I'm tired-feeling' suddenly disappears. Take feelings seriously. The next step is to summarize these feelings in order to convey them as good as possible to the director or choreographer with whom you work. He or she must be able to grasp what you say, you have to find a vocabulary together.
When we started the Performing Gender project, I just got pregnant. I was very busy with how I could combine being a mother with working in the arts. Until that point, I was 24/7 available for the arts, I was living in the projects that I connected myself to and able to fully dive into a process. There were days that I had dinner at 11PM and had to be fully ready again the next morning. How do you form a live in the theatre as a feminist mother? At that moment, I could not imagine it at all.
At our meeting in May 2018 in Leeds, I heard Roberta's story about self-realization and emancipation from an all-encompassing work situation. Missing out on birthdays, not seeing your family enough… We recognized ourselves in each other's stories and in the search to shape our new lives. Me, on my discovery into life with a child, Roberta who created her own way out of the iron ballet world.
Personal archive
As an artist and as a dramaturge, you constantly have to be aware of your own personal archive, you're using it all the time, it's your instrument. It's contains all that you are and more: What you know, what you don't know, your senses, interests, family, friends, cultural history, personal history, but also how others allocate you… You have to know from which barrels you can tap. Subjects you have knowledge from and can talk about or subjects you lack knowledge about. If you don't feel like an insider at a specific topic, you have to be honest about it. Of course you're still able to empathize with a topic, but a lot of things I actually really don't know. Roberta knew that when it comes to dance theory and history, my knowledge was very limited. Luckily, she was looking for something else in a dramaturge.
The week in Bassano del Grappa [the Dramaturgs Residency] that was fully dedicated to the questions of the dramaturges was very important to me. Everything was focussed on providing and discussing tools that I could use in the project and in the workshop weeks. We discussed, for example, that you can give yourself an assignment when you're watching work: Are you going to look freely, only naming what touches you, only associate or point out everything you see? We also discussed common social mechanisms in dance. How do you act as a dramaturge when emotions are expressed? Do you say 'take your time' or 'come to me'? Do you make it your problem and take it into account? Ten dancers, that's a lot of people. To what extent are you available for personal worries?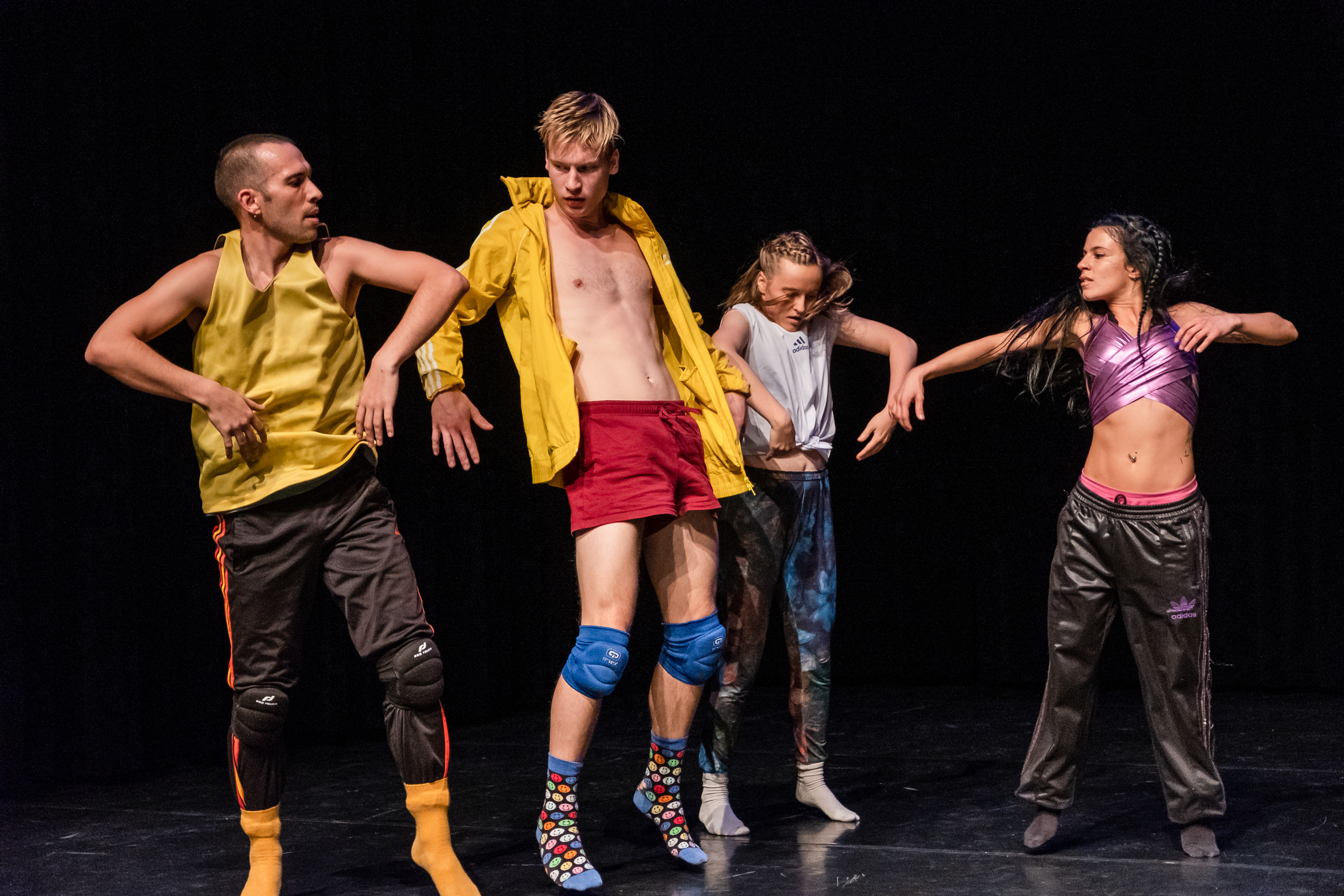 Speaking with bodies
When I look at dance and when I try to capture in words what I see, I immediately create a much more flexible vocabulary then when I look at theatre. But there is also something only the dancers know. I discovered that in the first two days of the workshop week. Theatre often starts at the table, for full mornings, you're at a table and people talk.
Here, after ten minutes, there was music, dance, movement, without the use of too many words everybody was on the floor and dived fully into the material. People spoke with their bodies.
They rotated circles on their buttocks. What did I have to do with this? What could I contribute? I felt left out. Then I discovered that it is quite difficult for dancers during rehearsals to step out of the physical practice and to reflect on what the movement causes to the viewer. I discovered there was a need for conversation.
From that moment on, I constantly gave back words on what I saw happening. I felt the freedom to appoint and associate, to pass on my observations, thoughts and feelings. For Roberta and for the dancers it regularly brought a 'wow-feeling'. The confirmation that what they had put in, was also visible for the audience. Words started to mingle up with dance, feeding the poetry of the process. The vocabulary that they have is about jumping, turning, about movement, creating force or speed, a lot of dance technique. I was able to see them from a more broad perspective, and through that they were able to see themselves from a broad perspective as well.
Turn-on-the-ass
Roberta's way of working was very inspiring. She choose her words wisely. When you call a 'turn-on-the-ass' a "love-rotation", something happens with that movement. Those associations inspired the dancers to search for a certain quality in their movements. I started to see it more and more clearly. I learned to distinguish intentions among ten people who all perform a movement in their own way. I saw the focus of the dancers, when they could surrender into the group or when they were busy with themselves. A quality arose which we were more and more able to keep.
Long before Roberta and I were a couple in the project, she knew what she wanted to create. She had prepared the workshop to perfection and steered the rehearsals. In between rehearsals I spoke to the group about themes, about what I saw and about what the dancers were going through. With regard to Roberta, I think that the role I had in the process is ultimately best described as that of a 'friend'. Someone to share an experience, who can and wants to reflect on that, someone who wanted to look at her material with equal care and love. Someone to think along with.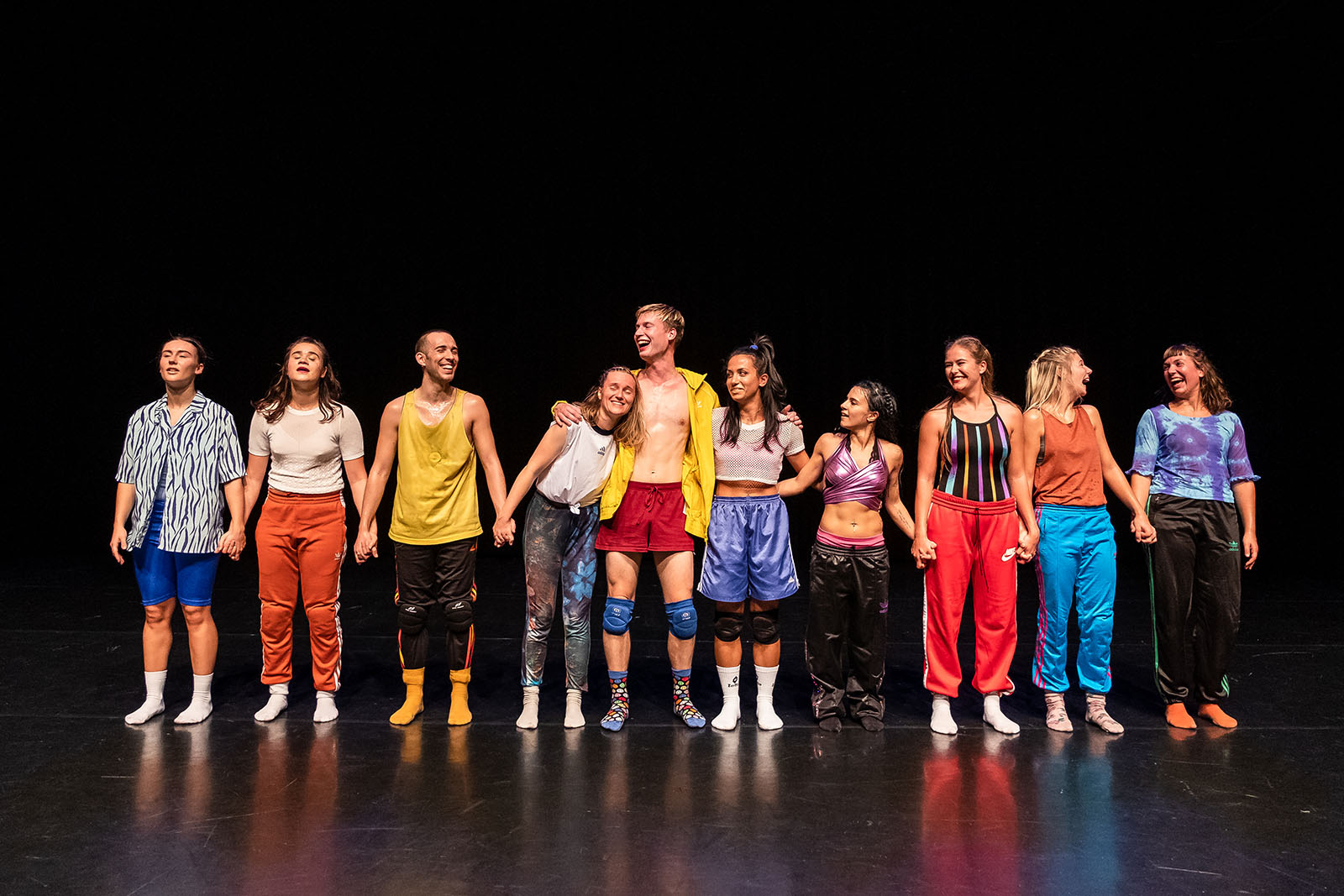 Translation
Gradually, a dramaturgy started to arise, not that of a performance, but of how we wanted to present the work. We came up with the idea that the dancers would look at the audience that was coming in. What that would mean is something we could be talking about a lot longer. If I would continue to work with Roberta, we would work on a larger dramaturgy.
What is what we created communicating about gender? I also think that the ideas about gender that were in to performance were very different for the dancers then for the audience. We did not quite get to that translation for the audience.
Finding a place
For me it was quite new to work with such a big group. But the dancers were very willing to surrender to Roberta. There weren't many ego's. In no time a group was formed and there was a sense of trust. That base made it possible to show your personal self. That was what Roberta was looking for, the negotiation between individuals and the group. That negotiation also existed between words and movement. We created a new language together. The diversity of bodies and technical possibilities were there to be embraced. It was about the personal relationship the dancers had with Roberta's material. About how you, as an individual with everything you are and carry, can find a place in a group, a society. Dance Makes Differences, I literally saw it happening in front of me.